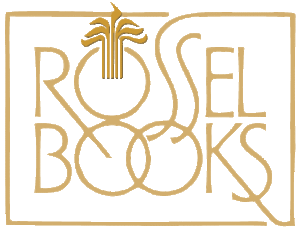 The Story of Rossel Books
Rossel Books claims a tradition of excellence. We started business as an independent entity in 1981. On that first day, I was the only employee. I was also the boss. So I stared into the mirror, faced the image and said, "You are fired!" A moment later, I relented and said, "Now let's get to work."
I had no projects and no prospects, but I had friends. So I started there. Before 1981, when I was Executive Vice-President at Behrman House publishers, I issued three textbooks by Jacob Neusner. Jack and I had become good friends, so I made my first telephone call to him on the first day of Rossel Books. "I am opening my own publishing house," I said. What a moment! And what a response. With no hesitation, Jacob Neusner said, "I want to be the author of your first publication. What kind of book shall I do for you?" And that began the life of Rossel Books. Our first book was Mitzvah, so successful that it has been in print ever since its first publication.
Dr. Jacob Neusner was my first author and he went on to do three more books for Rossel Books over the next few years — Tzedakah, an exploration of the sacred meaning of philanthropy; Torah from Our Sages, a modern translation and commentary on the Sayings of the Sages; and Our Sages, God, and Israel, an anthology of commentary from the Jerusalem Talmud.
An equally wonderful companion, Rabbi Larry Kushner, had just completed a new book called The River of Light. Harper-Collins from San Francisco was due to publish it in paperback but as soon as I read the manuscript I was eager for Rossel Books to publish it simultaneously in hardcover. And that, too, was arranged.
In the meanwhile, my dear friend, Gerda Klein, Holocaust survivor and author of All but My Life, brought me a manuscript to help young children cope with what happened in the Holocaust. We worked together to create Promise of a New Spring, a pioneering effort in Holocaust education. Later, we worked together on a wonderful biography Gerda wrote about Edith Rosenwald Stern, entitled A Passion for Sharing.
Friends brought me more projects. My close friend Dr. David Altshuler, Founding Director of the Museum of Jewish Heritage – A Living Memorial to the Holocaust in New York City, introduced me to Dr. Yehoshafat Harkabi, an Israel spymaster and best-selling author of a historical-political book of a warrior promoting peace for the State of Israel. With help from the great translator, Dr. Max Ticktin, the editorial skills of David Altshuler, and the inimitable urgency of Harkabi himself, we published The Bar Kochba Syndrome, a translation of his Israeli best-seller and the book that garnered more reviews than any book I have ever published before or since.
It seemed my friends were legion. I worked with Dr. Daniel Landes and Dr. Alex Grobman, editors of a companion volume to the movie Genocide which would soon achieve an Academy Award. So Rossel Books co-published their book, Genocide with the Simon Wiesenthal Center. The Center was so pleased that we soon co-published the first Simon Wiesenthal Center Annual. Rossel Books also did co-publications with the Jewish Historical Society of Greater Washington, the Reconstructionist Press, the Board of Jewish Education of New York, Harper & Row, and the University of Chicago Press.
Rossel Books published Meditations of a Maverick Rabbi by Albert Axelrad, the outstanding Hillel director and Chaplain of Brandeis University; and reprinted Cain, Son of the Serpent by David Max Eichhorn. My good friend and CEO of the Board of Jewish Education of NYC, Dr. Alvin I. Schiff, brought Rossel Books his collection Contemporary Jewish Education: Issachar American Style with a Preface by Dr. Seymour Fox.
Ann Hurwitz and Carol Kitman brought us a beautiful children's counting book called One Mezuzah and from Jerusalem came Jewish Lights a children's Hanukkah book to accompany the Gesher film of the same name.
And we had a go at liturgy, too, thanks to more boon companions and friends. Rossel Books published Gates of Freedom — A Passover Haggadah by Rabbi Chaim Stern. And Rossel Books brought out (in a three-part set) The Family Prayer Book by Rabbi Sheldon Zimmerman with illustrations by artist (and accomplished dancer) Eleanor Schick. Both of these remain popular to this day — I edited, revised, and helped redesign Chaim's Gates of Freedom Haggadah for publication by Behrman House and for Rossel Books I gathered the three volumes of Rabbi Zimmerman's work into a single volume The New Family Prayer Book illustrated by artist (and accomplished musician) Sharon L. Wechter.
From England came the opportunity to reprint The Book of Jewish Values and On Ecstasy: A Tract by Dov Baer, both by my distinguished friend, Dr. Louis Jacobs. Another of the great British writers of our time, Chaim Raphael, brought me his book, Memoirs of a Special Case which included great essays and a lovely short novella. My dear friend from St. Louis, Dr. Howard Schwartz, who has edited many great compilations of Jewish literature and fantasy, gave Rossel Books the honor of publishing his dream-like novel, Rooms of the Soul.
For a while, I set aside Rossel Books in order to serve as the head of education and publishing for the Reform movement of North America. With the vast resources of the Union, my department was able to publish a number of projects that would have been beyond the scope of any small publisher. But the time came when the Union decided to leave the publishing business and I happily revived Rossel Books.
First on the agenda was the publication of a major new project with Rabbi Chaim Stern, Paths of Faith: The New Jewish Prayer Book for Synagogue and Home. This book came to a tragic end as we rushed to publish while Chaim was dying and we accepted a contract to co-publish with a company that subsequently absconded with all proceeds and put itself beyond reprisal through the typical ruse of a fake bankruptcy. I recount this episode because most publishers are honest, but it is wise for authors to investigate carefully with whom they publish. Every trade has its charlatans and cheats.Rossel Books became the home for several books I had written: The Holocaust: An End to Innocence; Bible Dreams: The Spiritual Quest; The Essential Jewish Stories; and The Wise Folk of Chelm. And, most recently, the wise and witty essays and observations of my colleague, friend, and teacher, Rabbi Manuel Gold, Renegade Rabbi.
As you can see, the most significant art of being a small publisher is having friends and supporters. During all the time I have been publishing the works of other folk, I have also been personally writing and editing books published by other companies. Now, there is less reason to separate my two careers. Rossel Books at one time had six full-time employees and a few part-timers. Now, Rossel Books is only me and a few part-time folk who help me to ensure the quality of what we do. We still do the publishing, but Amazon, Barnes and Noble, and others do the sales and distribution. When you order through this web site, the sale is conducted by a vendor (most often Amazon) and a percentage comes back to the author and a percentage comes back to Rossel Books.
Many of you who visit this web site are friends. You may be among the thousands I reached as a storyteller, the tens of thousands who have read my books, students who have studied with me through the years in communities throughout North America and in Great Britain and Israel, too. Perhaps you know me through the Women's Institute of Houston, from my former congregation at Jewish Community North, at Limmud, at Union Biennials, or from the heady days of teacher education with the Coalition for Alternatives in Jewish Education in North America and in Jerusalem. Perhaps you are here to discover, to read, and to appreciate the books and lectures and stories even though we have not yet met. Thanks for coming.
Y'all make it possible for Rossel Books to continue doing what I love most, telling new tales. When I look around and see what goes on in the newspapers and magazines, what is on social media, and what kind of entertainment is presented in the marketplace, I need to remind myself that we are all the creations of God and so there must be a greater purpose. Rossel Books is still committed to finding and publishing works that reflect that greater purpose, and so is Seymour Rossel. Welcome to our web site. May you find blessing here.