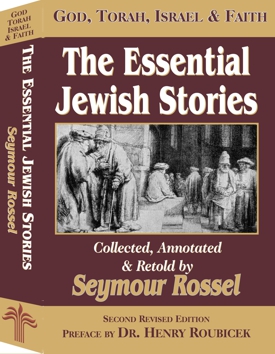 The Essential Jewish Stories
Paperback, 448 pages, $28.95 ISBN-10: 0940646455 ISBN-13: 978-0940646452 Kindle / eBook, $9.95 (no indices)

The Essential Jewish Stories
Second Revised Edition
Preface by Dr. Henry Roubicek, author of
So, What's Your Story? Discovering the Story in You
If you could pass on the Jewish heritage from generation to generation using only stories, what stories would you choose?
More than 300 stories selected from every period of Jewish history and from every Jewish teaching tradition — narratives, anecdotes, metaphors, analogies, folktales, and fantasies. Every story is elegantly retold to emphasize its relevance for our times.
The Essential Jewish Stories is arranged thematically for easy access. It includes three indices that make it conveniently simple to find just the right story, whether you are looking by occasion (holy days or life observances), by personality (people who told them or people the stories are about), or by values.
Sources are provided for every narrative and many are accompanied by special notes on their meaning, their origins, or their comparative place in world mythology.
Read The Essential Jewish Stories from cover to cover and enjoy the teachings of the sages through the ages; or open it to seek just the story you want for just the moment you need it.
The Essential Jewish Stories is perfect for clergy of all faiths, for teachers, for storytellers, and for parents — for all who wish to initiate discussions of tradition and values with children, friends, and community — and certainly for those of us who simply love to share a good story.
"Seymour Rossel has gathered a lifetime's knowledge and study of Jewish stories into one inspiring collection. He draws widely from rabbinic texts, kabbalistic teachings, and Hasidic tales. His notes and sources greatly assist the reader and enrich the book. This one belongs in every Jewish library."
"Rossel presents a rich collection of the narratives of Judaism, a religion that tells the truth in narrative form. A whole new generation is invited to join the story-tradition."
"Through these stories we can understand the Jewish mind at work. This is a book for your bedside, for the classroom and synagogue, and above all for your soul. It is a book for all Jews, scholars and those beginning their Jewish journeys, young and old alike, and for those who would come close to the Jewish essence. You will be nourished for years to come."
"For anyone who has ever asked 'what's the story?' Seymour Rossel's book is a God-send. It is filled with stories from the entire sweep of Jewish history — tales that will move you to tears and to laughter. We have needed this deeply rich resource for quite some time."
"The Jewish tradition, perhaps more than most others, has relied on the power of its narratives to maintain the continuity of its peoples at least since the Diaspora. Rossel, in this substantial anthology, has brought together the stories he has used as a rabbi, drawing from scripture, Midrash, folktale, and literary sources. Indexed by festivals, characters, and concepts, this is a rich resource. VERDICT For readers and preachers in both Jewish and Christian traditions…"
"For thousands of years, Jewish scholars have used stories and legends, Midrash, to interpret and explain core religious texts such as the Torah and the Talmud and to impart values to their students. Rossel, a Reform rabbi and educator who loves these stories, has collected more than 300 of them for this book. He has "re-imagined and rewritten" each of the stories to make them accessible to a contemporary audience. He has also done extensive research to track down the original sources of each tale. The notes and the bibliography at the end of the book provide these references for interested readers. The stories are grouped thematically into four chapters: God, Torah, Israel (the worldwide Jewish community, not the country), and faith. Each story is short, ranging in length from a few sentences to one page. They are excellent material for teachers explaining Jewish values and anyone preparing a dvar Torah (sermon). This book is a nice addition to school and synagogue libraries as well as public libraries serving interested communities."
"The Essential Jewish Stories is a book to be cherished — the kind one generation passes on to the next with handwritten notes scrawled in the margins. These stories are filled with wisdom and humor and a "bet you can't read just one" quality that kept me flipping pages far too late in the night and enjoying every moment. Everyone will be touched by the universal themes in this amazing collection."
"Seymour Rossel knows stories and he has amassed many of the best in this collection. Each one is readable, and each has a memorable message. Whether you are looking for inspiring reading, or want a treasury of stories for lessons, speeches, illustrations, etc., you won't be disappointed."
"Seymour Rossel is a brilliant story teller. He has been telling stories for over forty years and finally I have most of them in this wonderful book. Everyone would be amused by these stories which can be used to stimulate conversations and classroom lessons."
"From his life's work as a congregational rabbi, Rossel retells over 320 stories, personal teaching favorites he has chosen because they thrum with Jewish belief, ethics, and ways of life meaningful today. Stories draw through time from traditional tales to eclectic selections from Internet anecdotes, Kafka, Boccaccio, and Sufi lore. Most, but not all, have Jewish roots and include adaptations from Newman, Buber, Ausubel, Langer, Midrash, Talmud, and Rossel's own published works. Brief sources follow each story, though folktales are often identified merely as Yiddish/European without naming a particular book. Some of the sources, like Certner's 101 Jewish Stories, are out of print, which makes it so valuable to have whole stories here. The book is divided into four sections – God, Torah, Israel, and Faith – and then subdivided into many categories. [T]his book is a gift for rabbis, storytellers, parents, and teachers. It is clear that Rossel has not only been a good storyteller in his life, but also a good listener. Many of these stories have been told before, but they sound fresh in this user-friendly collection, enhanced with indexes by holidays, characters, and concepts and values, as well as a bibliography. For all ages."
Rabbi Seymour Rossel is one of the most experienced, gifted and creative Jewish educators working today. He has served as Director of the URJ Press, as Dean of the School of Education of HUC-JIR, and many other important educational positions. Most of all he is a seasoned and experienced teacher, who knows that stories are the key to reaching the heart and soul of the student.
This amazing collection is the product of a lifetime. Rossel has collected the stories, and reworked them for modern use, since his earliest days in the classroom. I plan to keep this book right next to my computer, together with Chicken Soup for the Jewish Soul, Jewish Stories from Heaven and Earth, and one or two other important collections of Jewish stories. Every rabbi, teacher and educator (Jewish and non-Jewish) should do the same.
The book covers the gamut of Jewish themes: God, Torah, Israel and Faith. It includes tales that will move you to tears and to laughter. A very rich resource for the busy practitioner. And, It contains a very useful set of 3 indices to help the reader/teacher search for themes of interest.