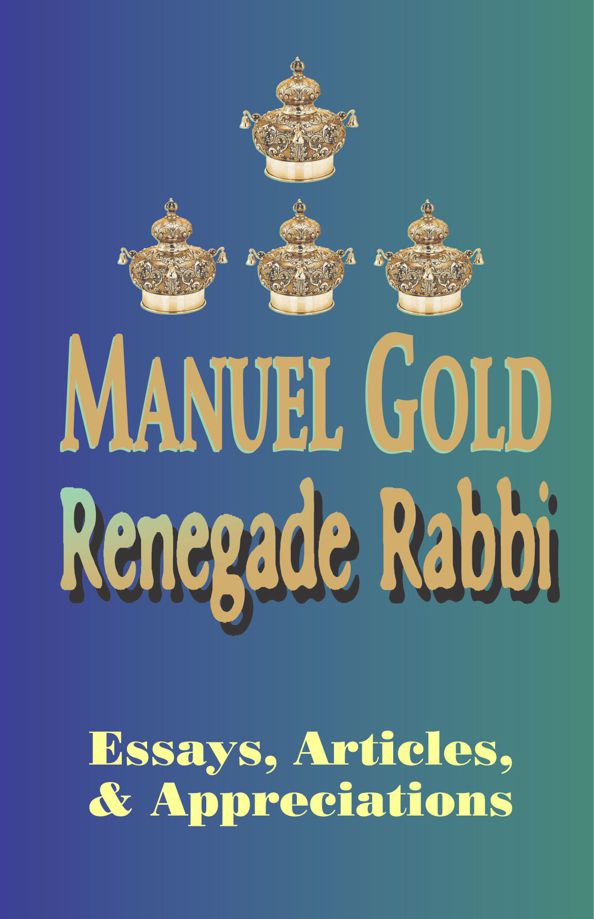 Renegade Rabbi
Paperback, 150 pages, $17.95
ISBN-10: 0940646773
ISBN-13: 978-0940646773
Kindle / eBook, $9.95 (no indices)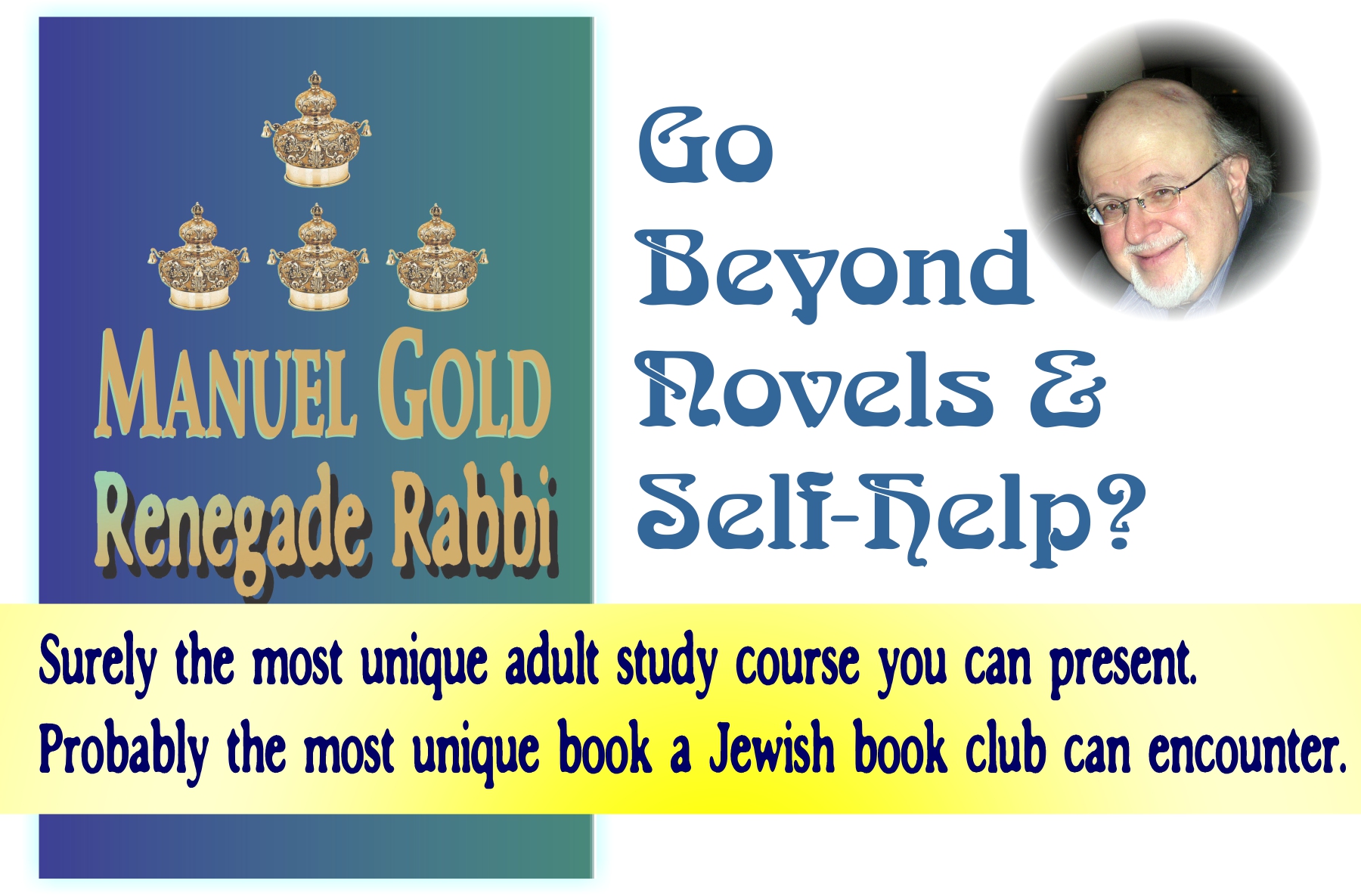 Renegade Rabbi
Manuel Gold
Foreword by Rabbi Seymour Rossel
Appreciations by Dr. Robert M. Seltzer, Rabbi Gary M. Bretton-Granatoor, Dr. Philip Stern, and Dr. Jeffrey H. Tigay
RENEGADE RABBI
by Manuel Gold is a landscape of surprises. • Is there truth behind the little jar of oil that burned for eight days instead of one (see page 9)? • Why do Jews set out a cup for the prophet Elijah at the Passover table (page 53)? • What are Jews really seeking when they recite the
Kol Nidre
prayer (page 36)? • Why are there eight days of Hanukkah (page 4)? • What do the four sons on Passover eve mean (page 46)? • What does putting a
mezuzah
on the doorpost really signify (page 33)?
Intriguing issues stand above the practical questions. • How could people in Bible times hear God's voice (page 60)? • What was idolatry and what made it so alluring (page 84)? • Did the rabbis of old dabble in demons and magic (page 97)? • How do we know what we think we know about the Bible (page 27)? • How did Abraham, Isaac, and Jacob make a living and why were they so successful (page 77)? • Did Moses actually have a speech defect (page 73)?
Rabbi Manuel Gold is aptly called a Renegade Rabbi. He has served every Jewish movement as a rabbis' rabbi and an educators' educator. He was National Director of Teacher and Principal Education for the Reform movement, Academic Coordinator of the Schools of Education and Sacred Music at Hebrew Union College in New York, Lecturer in Education in the HUC-JIR Rabbinic School, and Director of the Teacher Center at the Board of Jewish Education of New York.
"If Manny Gold were only a teacher's teacher and the master Jewish pedagogue of our time, dayeinu. But this collection of his writings reveals him to be something deeper—an iconoclast and debunker of accepted truths about Judaism and Jewish practice. It is a masterful work. We are all Manny's students. "
"Manuel Gold is the Sherlock Holmes of Jewish scholarship. His Jewish teachings and writings are often radical without being controversial. How does he accomplish this? By fearlessly asking questions that few others have considered, by probing into sacred literature with the eye of a historian, and by being fiercely truthful and honest about the credibility of his own findings. As the editor of Reform Judaism magazine, I could always count on Manny to deliver an original, well researched, and provocative article with the enthusiasm of a sleuth who had just solved a mystery."
"Manny Gold is a truth-teller, a trait sorely needed in the contemporary world. He reveals this truth to enhance and enlighten the Jewish tradition so that more people can enjoy its rich treasures and gain insight and meaning for their own life's journey. "
"What kind of a teacher is Manny Gold? Brashly creative, humorous, both traditional and radical, demanding but beloved, profoundly learned, a little bit crazy, and—of course—utterly unique. Reading this book is a joyous reminder of how Jewish education can actually succeed when an educator like Gold is around to fiercely deepen our Jewish knowledge."
"Rabbi Manny Gold has always been enthralled with the discoveries of ancient Near Eastern languages and literature. Understanding the background of the biblical world, Rabbi Gold reveals the authenticity of many biblical ideas and books. His studies presented in this superb collection are a boon to all who want to understand the underlying truth of many Jewish customs and biblical concepts. His writings are a gift to all of us."
"Judaism is Not What You Thought It Was. If you are willing to have your eyes opened to some innovative and refreshing perspectives about Judaism with many surprises, or are just curious about how Judaism might be different from what you leaned or imagined, Rabbi Gold's remarkable book is for you. This book is for the novice layperson and those of advanced knowledge about Judaism and is well grounded in scholarship and original sources. Did you ever wonder why Biblical personalities who are supposed to be good people actually, when scrutinized, really do lots of bad things? By presenting these personalities through his rational interpretive lens with all their flaws, Rabbi Gold makes iconic people like Abraham, Moses, Aaron, Miriam, David, Solomon, Elijah and many others become more real, accessible and interesting. Rabbi Gold pulls away the centuries of "whitewashing" interpretations making these personalities believable, complex and memorable while leaving it to the reader to figure out how to best evaluate them. Rabbi Gold, picking up on details in Biblical and post Biblical texts throughout the centuries, reinterprets many customs and rituals including of holidays like Hanukkah and Passover based on his rigorous analysis of influences of non Jewish beliefs and religious and cultural mores on Judaism due to the ever-changing cultural settings in which it developed. All this makes the Jewish tradition more believable, accessible and engaging. All this comparative historical inquiry only served to increase our credibility in and appreciation for Jewish texts and traditions. This is a unique book on the Jewish tradition that challenges us to let go of inherited popular misconceptions and to think for ourselves in a new way. Reading it is an adventure written by a first class scholar qua detective uncovering many hidden treasures about the Jewish tradition."
"To get from here to there, use Manny's map of the world. His clarity guides us to the wisdom and heart of our people. "
"Everything you thought you knew about Jewish holidays and symbolism…. " Rabbi Manuel Gold is an idol-smasher, just like the Midrash about Abraham smashing the idols in his father's idol shop. But the idols that Rabbi Gold smashes are long-held beliefs about the origins of Jewish practice and beliefs that we have held on to uncritically. With his scholarly view and his iconoclastic thinking, we are taught new ways to encounter the undergirding concepts of Jewish culture. There are "Aha!" moments throughout this easily readable text. It is a fun and provocative read. And even if one is not ready to accept Rabbi Gold's point of view, one cannot help but to engage in the struggle for meaning — and that is the ultimate act of Jewish engagement. A must read for every thinking and practicing member of the tribe."